Nucleic Acid Extractor

Easy, Flexible, and Reliable new generation technology for rapid Extraction

NANBEI Nucleic Acid Extractor NANBEI utilizes the proven magnetic-particle technology to extract highly purified nucleic acid from a wide range of sample types relevant for molecular diagnostics, genetic identity testing, forensic testing, biomedical research, and gene expression analysis. The combination of easy-to-use instruments, with pre-loaded protocols selection and magnetic particle-based sample preparation kits filled with unique special reagent ensures the rapid nucleic acid extraction and highly purified products Standard protocol,Rapid protocol with special reagents.

NANBEI extractor and preparation kits offering you:
Easy Operation — unique remote control pad saving time and improve your work efficiency
Flexible solution — pre-loaded portocols selection for up to 15, 32 or 48 samples per run
Fast startup and immediate results — with special rapid reagents, the extraction can be done within 10 minutes
Reliable result you can depend on — high-quality nucleic acid ready to use in sensitive downstream applications

Easy Operation:
NANBEI is an open system that can be easily operated through a 3.5'' screen keyboard combine with an unmatched remote control pad, no external computer is required. The pad connect the main unit via WIFI, the "Extractor"app allows the operator to create, edit or delete the protocols, the protocols can also be easily shared between the main unit and pad, saving your stand-by time and improve your work efficiency.

>> A collapsible slot can be easily ejected for pad docking.
>> The hidden handle for easily moving

Simply Remarkable Software:
With the convenient software based on Android, a protocol can be set up and started with just a few clicks on the pad. Friendly and intuitive interface make it simple even for first time user

Flexible Solution:
Covered from low to high throughput
Uses proven Nanbei extraction Kits, Nanbei Nucleic Acid Extractor NANBEI offers a wide range throughput covered low to high requirements, Low throughput 15 samples per run, medium throughput 32 samples per run and high throughput 48 samples per run are optional for customers according to their requirements.

Multi-Protocols are optional:
>> 15 pre-loaded optimizing protocols in the main unit are perfectly matched with Nanbei extraction Kits that can cover most of the extraction requirements.

Fast Startup and Immediate Results:
The proven magnetic particle-based sample preparation kits with special reagents ensure high-performance results of your extraction procedures. The unrivaled ease of use of Nanbei extraction Kits enable fast and reproducible extraction without the need for specialized training. The extensive application range delivers the flexibility that is essential for laboratories from a wide variety of sample types, like whole blood, tissues, FFEP etc.

>>With magnetic particle-based sample preparation kits, experimenters need only few steps to start the extraction instead of add the sample and reagents one by one, save the work time and also reduce the operation errors.
>> Nanbei rapid extraction reagent kits including special reagents can reduce one wash step and accelerate the whole procedure in 10 minutes
>>Temperature adjustable at block can facilitate the process of lysis and elution to improve the efficiency, save your extraction time.

Reliable result you can depend on:
NANBEI Nucleic Acid Extractr NANBEI is designed to ensure great process safety, high performance, and user convenience.
>> A message will popup on the screen in case cabin door opened during experiments to reduce potential contamination.
>>The precise mechanic control system helps to reduce intra-contamination.
>>The disposable consumables: 96 deep well plate and mixing sleeve facilitate to reduce inter-contamination.
>> An intelligent-design UV lamp decontaminates the inner surface of the system as needed.

Performance:
Genomic DNA was isolated from 10 human whole blood samples with the Nanbei NANBEI and real-time PCR were run by Nanbei Real-time Quantitative PCR Detection System Gentier96&48.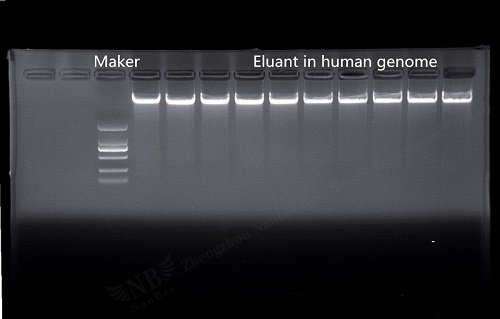 Figure1. Agarose gel electrophoresis:

| | | | | | | | | | | |
| --- | --- | --- | --- | --- | --- | --- | --- | --- | --- | --- |
| Sapmle | S1 | S2 | S3 | S4 | S5 | S6 | S7 | S8 | S9 | S10 |
| A260/A280 | 1.8 | 1.83 | 1.81 | 1.84 | 1.82 | 1.84 | 1.81 | 1.82 | 1.81 | 1.82 |
| A260/A230 | 2.01 | 2.02 | 2.03 | 2.01 | 2.04 | 2.05 | 2.03 | 2.05 | 2.01 | 2.02 |
| ng/μl | 123.3 | 132.4 | 112.1 | 109.8 | 113.6 | 125.5 | 130.1 | 126.2 | 118.3 | 122.5 |


Figure2. Concentration and purity:





Figure3. Real-time PCR was done using 5 ng of extract the product (homo sapiens Beta-actin ,ACTB) DNA in each of the 96 block positions. Low variation Cq values (Cq range = 0.12and SD = 0.030) in each of the 96 positions demonstrated temperature homogeneity and equal treatment of all samples - independent of block position.

Seamless integration into your workflow:
Nanbei Nucleic Acid Extractor NANBEI can be seamlessly integrated into your workflow and is fully compatible with Nanbei assay technologies. The elution tubes of purified nucleic acids can be transferred to the Nanbei Real-time Quantitative PCR Detection System Gentier96&48 instrument for PCR setup. Analysis by real-time PCR can then be carried out for your future applications.

Specifications:

Items

Parameter

Processing Volume

30 -1500μl,30-1000ul

Capacity

15,32,48 samples per run customized

Collection efficiency of the magnetic particles

≥95%

Heating Temperature
(Not suitable for 48samples per run)

For cell lysis

Room temperature to 120℃

For nucleic acid elution

Room temperature to 120℃

Processing-mode

Multi-mode, multi-speed available

Reagents

Reagents suitable for Magnetic Particle Method

Operation Interface

Chinese/English-Language Operating System,
Touch-control Operation

Storage Capacity

15 preinstalled protocols in main unit, unlimited in pad

Protocol Management

Create, edit, delete, protocol mode

Pollution control

UV light

Computer Interface

USB

Network Communication

Ethernet(optional)

Dimensions

440mm(W)×435mm(L)×445mm(H)

Weight

31.5kg

Power Requirements

AC110±10%/230V±10%, 50Hz/60H±1Hz, 600W

Temperatures allowed during operation

10-40℃

Relative humidity allowed during operation

<80%
Remark: This product is for civilian use only